Research Network AMICA
The reseach network "Advanced Materials Innovation and Characterization (AMICA)" is a interdisciplinary cooperation of facilities and institutes of the University of Stuttgart which was founded to connect different experimental and computational methods in the field of material characterization. The aim of AMICA is the development of an experimental and numerical infrastructure for the cross-scale characterization of modern materials.
With its microstructure mechanics and durability analysis departments, the Materials Testing Institute has already an extenisve experience in combining multi-scale computational and experimental methods. It is therefore a leading member of the interdisciplinary research association AMICA.
Integrative Computional Design and Construction for Architecture
The Materials Testing Institute is partner in the excellence strategy for top-level research at the University of Stuttgart. To enhance the research mission
"Intelligent Systems for a Sustainable Society"
the MPA Universität Stuttgart offers the participating institutes the technological possibilities to achieve the aims of the research and participates actively with our experts in the implementation of the research tasks.
Contact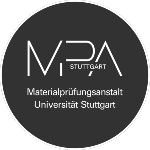 MPA Universität Stuttgart