Your professional partner
We assess your component and material quality with the highest accuracy. We reproduce microstructures in materials true to detail by means of metallographic examinations and various types of microscopes. We detect and visualize defects in your parts and components using various non-destructive testing techniques, even when still built-in. Through the AMICA research network, we have access to further imaging methods in the highest resolution in 2D as well as 3D.
The Units in our Department
Non-destructive Testing

We offer non-destructive defect identification in your parts and components at our laboratory or on site. Our experienced test personnel use all common testing techniques and provide individual solutions for your inspection tasks. We develop advanced techniques for materials that are difficult to inspect as well as procedures for reliability considerations of NDT techniques. The MPA is a one-stop provider for the evaluation of flaws identified with NDT as well as further damage analyses.
Electron Microscopy and Metallography

We offer examinations of microstructures and their correlation with material or component properties as well as analysis of damage and defect mechanisms of technical materials. We investigate and characterize materials in mechanical engineering, power plant and plant construction, chemical industry, aerospace as well as traffic engineering down to the nanometer scale range.
Research Network AMICA

We are part of the interdisciplinary research network AMICA (Advanced Materials Innovation and Characterization). AMICA brings together the instrumental, methodical and technical expertise of various scientists at the University of Stuttgart who focus on materials science related research topics. Through the AMICA core facility, members of the University of Stuttgart have access to various high-resolution methods of material characterization.
Tasks and technical focus
Flyer of the Department
Contact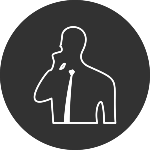 Dr. techn.
Bernhard Sonderegger
Head of Department / Head of Unit