The importance of new manufacturing processes and in particular additive manufacturing is increasing due to the economic and technological advantages even in safety-critical and demanding fields of application, such as energy generation and conversion.
While in the past such processes were only used for the production of prototypes, functional samples, and, if necessary, spare parts, they are increasingly considered as valid manufacturing technologies already in the development process of high-performance components. This allows specific advantages to be realized, such as higher operating temperatures due to cooling channels close to the surface in the case of turbine blades and geometric compaction of complex valve geometries.
In addition to additive manufacturing in powder bed with LPBF/SLM, DED/WAAM processes as well as the application of new joining processes, such as electron beam welding, narrow gap welding, cold gas spraying, and hot isostatic pressing, will be the focus of this workshop.
The workshop will look at the manufacturing processes, the resulting material properties that can be achieved, the proof of structural integrity especially for the challenging operating environments, such as corrosion, creep resistance, and fatigue. In addition, suitable in-process and post-process quality assurance methods will be addressed.
Advanced Manufacturing for powerplants and safety-relevant parts
DED/WAAM additive manufacturing
Structural integrity of AM
LM additive manufacturing
New materials
Electron beam welding and narrow gap welding
Cold gas spraying
Form generating HIP
Quality assurance and NDT
Program (times correspond to CEST)
| | | |
| --- | --- | --- |
| 9:00 a.m. | MPA | Welcome |
| 9:10 a.m. | F. Hermann, TRUMPF Laser- und Systemtechnik GmbH, Ditzingen, Germany | Laser Metal Deposition of AlSi10Mg with High Build Rates |
| 9:40 a.m. | D. Beckers, Rosswag Engineering, Pfinztal, Germany | Powder Production and Qualification for Pressure-bearing AM-Parts Under the Pressure Equipment Directive |
| 10:10 a.m. | M. Brotsack,Impact-Innovation GmbH, Rattenkirchen, Germany | Cold Spray – An Advanced Manufacturing Method for Metal Coatings and 3D Metal Components |
| 10:40 a.m. | Break | |
| 10:55 a.m. | S. Kallee, AluStir, Geiselbach, Germany | Linear Friction Welding of Aerospace Components |
| 11:25 a.m. | U. Woy, Nuclear Advanced Manufacturing Research Centre (Nuclear AMRC), University of Sheffield, Catcliffe, U.K. | Material Development and Part Qualification Methodology for Quality Critical Structures |
| 11:55 a.m. | Break | |
| 12:55 p.m. | C. Potzernheim,voestalpine Automotive Components Dettingen GmbH, Dettingen a. d. Erms, Germany | Hybrid Structures – A Classic Idea Goes Additive |
| 1:25 p.m. | M. Werz, Materials Testing Institute University of Stuttgart, Germany | Current and Future Research at the MPA |
| 1:55 p.m. | R. Tregoning, U.S. Nuclear Regulatory Commission (U.S. NRC), Rockville, USA | NRC Activities on Advanced Manufacturing Technologies |
| 2:25 p.m. | Break | |
| 2:40 p.m. | L. Ravi Narayan, Department of Materials Science and Engineering, University of Conneticut, Storrs, USA | Experimental Approaches for Solidification Cracking Studies in Additive Manufacturing |
| 3:10 p.m. | R. Wright, Idaho National Laboratory, Idaho Falls, USA | The Elevated-Temperature Cyclic Properties of Powder Metallurgy-Hot Isostatic Pressed 316H Stainless Steel |
| 3:40 p.m. | MPA | Panel Discussion |
| 4:00 p.m. | MPA | Closing Words |
Fees and conditions of participation
The workshop "Advanced Manufactured Components for Safety Relevant Applications" is an online workshop. After your binding registration we will send you a link to the conference platform in a timely manner.
The event language is English.
Fees
€ 120,- Day Ticket
free Speaker
free Students (with ID)
Registration
Please fill in the following fields: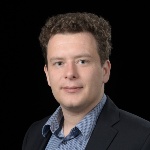 Martin Werz
Dr.-Ing.
Abteilungsleiter
Abteilung Fügetechnik und Additive Fertigung