We cordially invite you to the 9th meeting of the International Network on Timber Engineering Research, organized this year by the Materials Testing Institute of the University of Stuttgart and the Technical University of Munich, Chair of Timber Structures. The meeting will take place in Bad Aibling, Germany, from August 21st to 25th, 2022.
Important: after completing the registration form you will receive a confirmation E-mail. Your registration is complete as soon as you have received this E-mail. If you don't receive this E-mail please contact us directly.
Registration
Registration deadline: June 26, 2022 (no extension!)
Information according to Art. 13 DS-GVO
1. Responsible person and data protection officer
Information about the data controller and the data protection officer can be found in the University's Privacy Policy.
2. Description and categories of data
The form records your entered data in a database in a structured manner. In addition, the date and time are recorded in the database .
3. Purpose
Implementation and confirmation of the registration, processing of the event.
4. Legal basis
The legal basis is Art. 6 para. 1 lit. e DS-GVO in conjunction with Art. 6 para. 3 DS-GVO in conjunction with § 4 State Data Protection Act.
5. Recipient
The recipients of the personal data transmitted by means of the form are the employees of the University Communications Department of the University of Stuttgart who are responsible for organizing the event.
For budgetary reasons, the budget department receives a list of participants for the billing of catering.
6. Duration of storage
After six months, the entry is automatically deleted from the database.
The copy in the form of a table is stored locally and deleted four weeks after the event has been completed.
The list of participants at the budget department is stored with the budget records for 10 years.
7. Consequences of not providing information, possibility of objection or elimination
Without mandatory information, the registration and thus the participation in the event can not be carried out.
For registration, this electronic form is the simplest option. However, it is voluntary.
Alternatively, guests can register by fax (number) by filling in this form, printing it out and faxing it. Registration by mail is also possible by sending the completed form to:
Company name
street, house number
postal code, city
8. Your rights
Information about your rights can be found in the Privacy Policy of the University of Stuttgart.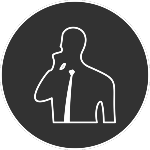 Simon Aicher
Dr. rer. nat.
Head of Department / Head of Unit